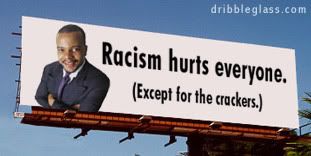 That sign is funny as shit, but I think we can all agree that racism hurts everyone.
Because almost all of us are so sick of hearing about it. How is this still an issue??
Yeah, there are some black people that make their kind look bad.
There are some white people that make their kind look bad.
There are some spanish speaking people (what do we even call them now? Hispanic? Latino?) that make their kind look bad.
There are some asians that make their kind look bad.
Wait, are there? I don't know, maybe not, they seem pretty nice.
There are cultural differences and personal differences that can be annoying. But who has the time or energy to actively hate a whole race of people just because? A lot of it is obviously ignorance and a lot of it is a subconscious fear of that which is different from what we know and some of it can be related to past experiences with the wrong representatives or annoying cultural differences...but let's just stop.
ALSO, let's stop seeking it out. Damn. It's out there for sure, but could we stop inventing it at every turn? Personally, I'm to the point where I will not even refer to black people at all ever.
Recently on Babycenter a popular poster had a signature that said something like "Nagger to one husband and prison warden to 2 boys" and every time I scrolled past her posts, I'd feel uncomfortable because I'd accidentally think of the N word, which I will not even say out loud.
Finally one evening some racist idiot got on and started slinging the N word around and I got the opportunity to mention to this poster that her signature made me feel guilty for some reason and oddly enough, several people said they felt the same way. I just thought that was funny that so many of us were so sensitive to it that we couldn't even read a similar word without feeling uneasy.
I'm not racist, I have absolutely no problem with any entire race or religion, but I just find the whole thing exhausting. You just never know who you'll offend when or why.
So I know this is old news by now, but I can't not offer my opinion on this LeBron James Vogue cover controversy.
People are saying this is racist. Do you have any idea why this is racist?

Supposedly because he is being depicted as King Kong.

Do you know why this *is* racist?

Because someone even went there. Whoever screamed racist at this, is racist.

When I see it, I see a big fierce athlete, with a beautiful woman in one hand and a basketball in the other, a total powerhouse, ready to take the world and basketball court by storm.

Who looked at this and thought Vogue was comparing him to a primate? Do we need to have the "intent" talk again? I've been over that a few times here before. Does Vogue have some hidden agenda to compare black people to monkeys? I'm thinking not, call me jaded and maybe it is because I'm white that I'm not seeing it, but I truly don't believe that was the intent of the photographer, the cover models or the magazine editors.

This is what I mean by let's stop SEARCHING for opportunities to scream "racist".

You know, Big Kid has NO CLUE that there is even such a thing. He has no idea. His aunt is black (Mr. Ashley has a black sister...long story, however it does make for interesting opportunities to make people feel uncomfortable when someone says something racist like it's okay because I'm white..."You do know Mr. Ashley has a black sister, don't you?"), he has friends of various colors, he has no idea that it is any different than having brown eyes or blue eyes.

But the constant screaming that racism is everywhere is going to draw his attention to the fact that it even exists.

People are stupid. People of all races. People that hate any entire race, religion, gender, sexual preference are obviously among the stupid in a major way.

And don't even get me started on people hating The Jews. Is this over the Jesus thing? Do you even know how long ago that was? And if they did take over Hollywood, it was through their own hard work and perseverance.

So let's just stop. Let's all just hate each other for the things that are actually worth hating each other over.

Also, let's remember that if we wiped out racism, Jesse Jackson and Reverend Al would be out of business...and that's not a bad thing. Not a bad thing at all.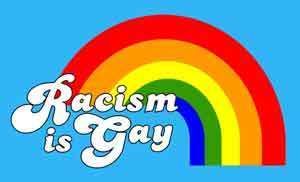 To see the hysterical "Apologies to Jesse Jackson" South park video where Stan's dad is on Wheel of Fortune and the clue is "People who annoy everyone" and the board said N_GGERS and he guesses the N word...Go
HERE
and search for episode 1101 in Season 11.
To read an article on the cover controversy that brought up some good points, go
HERE
.